Using GIFs for Business: How to Find and Create Your Own 
GIFs are the second-best type of social media post after videos that a brand can use to generate engagements. They can be used everywhere whether it is a social media post or ads. GIFs have the potential of easily grabbing the attention of the audience. Here, in this blog, you are going to read about the benefits of using GIFs along with the ways to create them for your brand. Read on to know more.
Do you enjoy watching and sharing GIFs while conversing on Social Media platforms? GIFs are visual content that instantly connects with the audience and generates more user engagement.
Additionally, as they are lightweight data objects, they suit well for viewing on mobile and PCs. Be it brand awareness, memes for entertainment, sharing ideas, and so on, GIFs do the job perfectly!
Before we head to the core topic on GIFs for business, let's have a brief introduction on them. GIF stands for Graphics Interface Format. Established in 1987 by CompuServe, their compressed file format makes it easy to download.
In this blog, we will analyze the benefits of using GIFs for business, finding the right GIFs, methods to create GIFs, and many more. So, let's go ahead with the main subject at hand, without any delays.
Benefits of Using GIFs for Business
GIFs are a smart way to boost your brand presence via your Social Media pages. Let's take a sneak peek into how they can add value and expand your brand's reach:
Higher Engagement Rates
These short and entertaining clips on Social Media are guaranteed to create a buzz among users. As they comment, tag, and share the posts, your follower count and word of mouth keep skyrocketing. Social Media research shows that GIF usage in a post can boost engagement rates by around 10% for B2B brands and 20% for B2C brands on average.
Internet research proves the fact that users love viewing and using GIFs. GIPHY recorded more than 1 billion GIFs each day, and the number keeps increasing every day.
Cultivate Brand Personality
GIFs make it more effective to convey a brand individuality in comparison to texts or still images. Whether you are promoting a delicious snack product or packaged holiday services, a well-made GIF can imprint your brand in the customer's mind like never before. 
Fast Rendering on Smart Devices
Most of the prospective customers browse Social Media via mobile devices. This aspect makes fast viewing/downloading of visual media a critical aspect. GIFs help to lighten up your audience's feeds with fun but powerful brand presence rendered at a fast pace. The message is easily conveyed compared to a large video or bulky text message.
GIFs Prompt Action and Improve Learning

Human Psychology is designed to process images more quickly than words. So if your business intentions aim at educating customers, GIFs are of far better value than long texts. The visual learning that comes with GIFs is backed up by science.
We have just caressed the tip of the iceberg when it comes to the impact GIFs can have on your brand presence. In the upcoming section, we will check out how we can find GIFs on the Internet.
How to Find GIFs?
We all know the feeling when you have finished creating a post and think of a GIF that fits the context, but you are unable to find it. So, let's talk about where you can find the GIF that creates maximum impact.
Google Image Search
Like everything else, Google is one of the best places to search for stuff. To search exclusively for GIFs, enter your search term and navigate to image search. Using the search tools, select 'GIF' under 'Type'.
GIPHY
A website dedicated to a library of GIFs, the collections they offer you are amazing. GIPHY makes your search easier by classifying GIFs into genres/categories. It is one of the best-in-class websites for your GIF hunt.
Tumblr
Most of the GIFs that go viral have their roots from Tumblr. It is a gold-standard website for collecting the latest and trending GIFs for a variety of scenarios. The Tumblr search bar helps you in searching the GIF that fits a specific context.
Imgur
Get an assorted collection of GIFs, images, and videos on Imgur. Users have the option to search by topic, GIFs that went viral, or latest uploads.
A point to keep in mind is the Copyrighted GIFs whose usage is restricted. Ensure to check the same before using it on your website to avoid copyright violations.
Tenor
Google acquired Tenor for GIFs. It provides a GIF keyboard for Android and iOS too.
You can customize your GIF lookout using various search options like trending searches, trending GIFs, and so on.
Reddit
Being a user-moderated platform, you need to be cautious if the selected GIFs are apt for business use. Specific subreddits are available on Reddit dedicated for GIFs like '/r/upvotegifs', '/r/highqualitygifs', etc.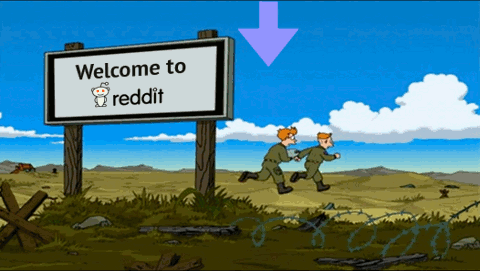 Apart from searching for readymade GIFs, you have the option for creating your own. In the next section, we will check out a few methods by which you can design customised GIFs.
Ways to Create a GIF
Although GIFs look like shortened videos, they are simple to create. You do not require any technical expertise, and even a newbie can make one in a matter of minutes.
Video-to-GIF Converters
Converting large-sized videos into lightweight GIFs can significantly lower loading times. If you have a video whose duration is as low as 5 mins, you can still manage to create dozens of GIFs out of it. Luckily, there are several video-to-GIF conversion tools available online. Some are free with basic features. At the same time, the paid ones are rich in functionalities and increasingly user-friendly. Some of the popular ones are:
GIF Maker Apps
There are plenty of Mobile/Web Apps dedicated to making GIFs from scratch on your phone. In addition to adding your photos, you can add text overlays, filters, emojis, and other additional customizations. 
The process of creation is pretty straightforward. Create an account, upload pictures, select GIF length and speed. Ingest your additional elements, and save them as a .GIF file. You are all set to share your creation with the online community!
If you're not in the mood for taking the trouble to start from scratch, there is always the option to search for your perfect GIF from several websites we discussed in the previous section. 
Getting the right GIFs is only the first step. The next phase is the more crucial and significant one. Where to use them for expanding your brand/business reach? We will address this aspect in the next section.
Where to Use GIFs for Business?
So far, you have done the hard work of collecting or creating the GIFs that matter to your business. A market research study performed by Dell proved that conversion rates increased by as high as 103% when emails had GIFs in them.
Marketers realise the part GIF plays to differentiate their content from the rest. Coming to the million-dollar question, "Where to market them?" Let's find out.
Social Media
"Social Media" – The first platform that immediately comes to mind when you think of marketing these days. Adding the flavour of fun, sarcasm, visual learning via GIFs can enrich your Social Media posts like never before!
One of the most common strategies for instant engagement on Social Media is to use a GIF from popular TV Shows/Movies. Here's a trending one from Friends:
Blog Posts
Add a GIF to the header or include them in the middle sections; both approaches make your Blog post more interesting and engaging. You can use them to break big chunks of written content and refresh the interest of your readers.
GIFs interspersed between the texts also increase the chances of your readers going on to complete reading the entire post.
Apart from the fun and engagement, GIFs also help inform your audience of some crucial news and accelerate them learning new things more easily than from texts.
A typical example of GIFs for education will show the rising levels of Global Warming to inform the readers of the alarming situation. 
Emails
People are always in a hurry. Hardly anyone has the patience to take the trouble of giving their attention to your sales pitch sent via emails. Make it easier for them to retain attention with some lightweight GIFs.
Stuffing your emails with heavy images and videos can cause lags in loading. This issue is more than enough for the receiver to dump your mail in the bin or hit the delete button immediately.
Website Landing Pages
Trying to promote your product/service through a website that uses GIFs helps make the audience stay longer. They greatly help in adding that extra energy and attention to an otherwise static website.
High-resolution images can kill your customer engagement due to increased website loading times and buffering. Be it company Blogs, website landing pages, product description pages, GIFs fit in all of them perfectly.
Trying to sell sunglasses, add a GIF similar to this one. This measure can add to your website's appeal.
If you're a food delivery business, adding some GIFs of the most lip-smacking and popular dishes will most probably ramp up your delivery counts.
Outdoor Advertisements
Adding GIFs to advertisement boards placed in important centers of a city is a common sight. One of the famous movie campaigns launched by Netflix in France utilized GIFs ultimately. They consisted of images from over 100 movies and TV series. 
This advertising strategy was not only visually appealing but also proved to improve sales and customer awareness drastically. Netflix placed these GIF boards strategically at bus and train stops. The campaign went on for three months and ended up increasing brand reach to over 40%.
Therefore, GIFs' effectiveness for business is not just theory but practically proven to give you solid results. Sharing the apt GIFs for your enterprise at the right location (online/offline) is guaranteed to garner people's attention and pique their interests.
Some Best Practices for Using GIFs on Social Media
Now that you know to create, collect, and select the location for using GIFs, we will look into a few smart tips to make your post stand out on different platforms with the help of GIFs.
GIFs on Instagram
Instagram has a great collection of GIFs that make your stories fun and attractive to watch. The latest trending GIFs can be applied without even the need to search.
To add GIFs as a standalone post, you would need to convert them to short videos first. Users can use GIPHY to perform this conversion quickly.
GIFs on Facebook
Unlike Instagram, Facebook allows users to add GIFs directly as a post. If you are running an FB ad, you can always add them using the Ads manager. 
Ensure you add good quality animations. FB recommends GIFs with a size of less than 8 MB with under 20% text present within the image for best results.
GIFs on Twitter
You can always add a GIF while composing your Tweet by uploading the same using the camera button. Alternatively, users can also feed the URL of the required GIF in the message box. 
Twitter provides the following recommendations while using GIFs.
The size of GIFs should be

under 5 MB on mobile and 15 MB on the web

for best results.

Animated GIFs are not supported in tweets with multiple images. Users are advised to use one GIF only per Tweet

.

GIF attachments do not add up in character count for your Tweet.
Apart from these major Social Media platforms, GIFs can be used on Pinterest too. But the viewing scope is limited. GIFs get played when you preview a pin. 
Professional platforms like LinkedIn do not support the uploading of GIFs in your posts.
Concluding Thoughts
You can choose not to use GIFs, but you can't ignore them. Their presence is everywhere these days. There is no denying that they increase the visual quality and attention-grabbing levels of any online (or offline) posts, be it on Social Media or otherwise.
Apart from the plethora of GIF collections available readymade online, you can always go ahead and create your GIFs with a personal touch.
We hope you enjoyed this Blog on GIFs, and it proved to add value. What are your thoughts on creating and using GIFs for business? As usual, we would love to know your feedback in the comments section below.
Download Now
See-through delicate embroidered organza blue lining luxury acetate-uppercas.