The Ultimate Guide to Instagram Hashtags in 2022
Hashtags can help a business in increasing engagements on their Instagram posts nearly by 12 percent. In this blog, we are going to discuss the effects of hashtags on a post, ways to find the best Instagram hashtags for a business, and some tricks and tips that are surely going to help a business in increasing their Instagram reach.
One of the most effective ways to gain followers and visibility is Hashtags on Instagram. There is nearly 12 percent engagement in a post with at least one hashtag in comparison to the one that doesn't. For creating an Instagram post and to reach more audience views, you need to curate the right hashtag strategy. 
Why Do You Need Instagram Hashtags? 
This is because hashtags are a fusion of letters, numbers, and emoji used after the # symbol. The use of this makes your content or post more discoverable. Your post is visible in that hashtag segment as per the following things – 
How popular your post is?
How many times it is being used?
When did you share it?
The strength of your audience
There are certain ways that you need to follow to make sure that you are using the hashtags in the right way. 
Things that you Need to Know About Hashtags in 2021
You will be able to see a user's content even if you are not following them. Many tend to follow popular hashtags as well. 
Stick to your topic or the niche that you post for. Using the same option, again and again, does not tend to work. The things that users don't like they opt for "Don't Show for This Hashtag" option.
The features have been incorporated to understand the Instagram algorithm. If an ample number of your posts are flagged, there are higher chances of your post not to be shown. It is better to follow Instagram's community guidelines to understand the functioning of visibility. 
Businesses can now Understand the Effect of their Post Online
If you are a business, switch to the Instagram business profile. You will garner the access to post insights which will reveal the number of impressions you received from hashtags. 
How to Acquire the Data?
Select the post that you want your data on

Click on View Insights just below the post on the left side

Swipe up to go through the details for that post

Here you can see the impressions of the hashtags that you have used. 

Also, you can use hashtags on your Instagram
While you are uploading a story on your account, you can now put up hashtag there too. Hashtag pages have their Instagram story. You can click on the same and go through the collection of stories. 
Continuous posting will let you acquire a post in the hashtag story. This will be one of the best ways of gaining attention to a larger audience. 
There are possible ways to add hashtags to your own story. You can use the hashtag with the help of the stickers which you can find it while posting the store. Or you can simply type the one preceded with # symbol before posting your story. 
You can even add nearly 10 hashtags on a story but make sure that you are not making your story look cluttered. You can reduce the number of hashtags. Or maybe hide it behind a GIF, emoji or sticker. 
Apart from this, you can also add hashtags in your bio. It is one of the best ways of connecting with brands and audiences. It creates engagement or collects user-generated content. 
Another thing that you need to keep in mind is that you can post up to 30 hashtags on your post and nearly 10 hashtags on your story. 
How to Find the Best Instagram Hashtag For Instagram Post? 
If you are willing to enhance engagement and visibility, you need to post relevant quality hashtags. Understand your niche and accordingly curate your hashtags. Suppose if you are putting up a post on traveling, tag with location hashtags. You need to find the right ways to implement the structure.
Here is how:-
View What Your Competitors Are Using
You might be able to discover new hashtags. Once you understand the difference hashtags they are using, you will be opting for an alternative way. This will further enhance the way you are posting on your feed. 
Research Your Audience
Putting up random hashtags on your Instagram posts will not help you to gain the target audience. Rather, you will have to understand your audience. Go through what they are looking for and see which one fits the content that you will post. Make use of the hashtags that are relevant to the post. Put up relevant keywords that users mainly search for. 
Researching on Industry Leaders
Another best possible way to find your relevant hashtags is by follow Instagram influencers. They should have the same target audience that you have. Social media influencers are the orators for a particular industry or domain on Instagram.
For instance, there are fashion bloggers, travel bloggers, food bloggers and so much more. They have huge popularity among the rising audience. Their reach is exceptionally high on social media Platforms. 
Every industry has its influencer. It is just like someone endorsing their products or services. Find our the influences of your domain and use their post as a source of inspiration. These people have a well-established connection with the targeted audience. So always learn from the supreme. 
Finding Related Hashtags
Understand the array of trends in the market. They should be relevant to your hashtag. It is one of the easy and effective ways of growing your community. Just type your hashtag in the search option and select "tags" from the dropdown menu.
You will be able to go through the top hashtags that are related to your hashtag. This will further disclose the ways to reach, monitor and engage with your audience and community. 
You can also browse through the posts that have hashtags that you are successful with. Go through the trends of the common hashtags that you can implement in your future post. 
Some of the tricks and tips for Hashtags On Instagram 
Cluttering your post with irrelevant hashtags is spammy behavior. It will annoy people who follow these tags. Rather they will block your post. Use hashtags strategically. This will help in the enhancement of engagement if you present the audience with the things that they are searching for. 
As per TrackMaven's analysis, a post that has nine hashtags tends to acquire more engagement.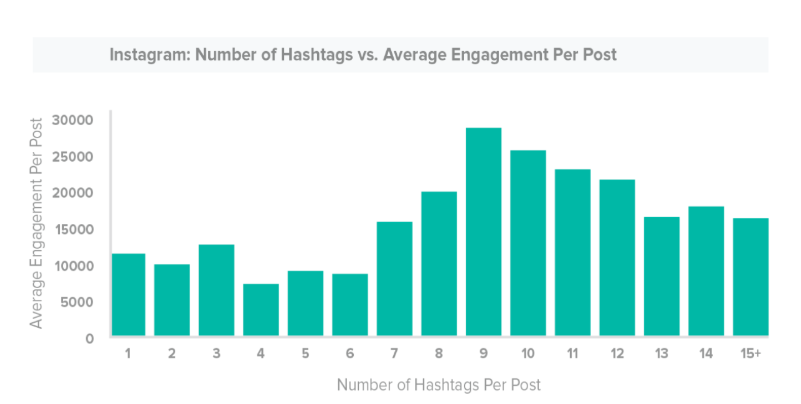 It does not mean that you need to put up ample hashtags. Popular hashtags like #likeforlike. #followback might get you to get little engagement. But it could be spammers or people who are looking forward to gaining followers. You need to use the hashtags tactfully, speaking for its post. 
You need to be completely specific with the hashtags on Instagram. The more specific you are, there are higher chances of engagement. Suppose if you are a Sephora fan, you can use #sephoralover or brands like #HM for H&M and so on. 
Do not just swear by the popular hashtags. As long as they are relevant to your post, it is okay to use it. These hashtags help in expanding your reach without making any spammy behavior. 
If you are creating your hashtag, make sure it does not sound anything else. You might never know which post you might get into. While you are posting the hashtags, research the same beforehand. 
Guide To Use hashtags On Instagram In Right Way
If you want to add a hashtags on Instagram to a post you have already published. Go to the post, tap on the three dots on the top right and select Edit to add the hashtag. You can also add hashtags after publishing your post under the photo or typing in the comment section. 
Tend to make use of brand hashtags relevant to your post. It has to be unique like your brand. It could be a tagline, brand name, anything which is meaningful. Like travel website Tripoto uses #tripoto, popular Herschel Supply Co. uses some brand tags like #herschelsupply and #welltravelled. This further encourages users and audiences to share their stories and gets tagged in millions of posts. 
If you are running an Instagram Campaign, acquiring a brand tag will help you in many ways. You will be able to acquire a huge engagement and participation. It will also help in organizing your post in a series. You can make use of the branded hashtags for promoting your company – the people, culture or giveaways. 
Final Thoughts
While you are making a brand tag, make sure that it is not too long. It should be innovative yet easier to remember. You have to be specific with your post. Something like #SanFranciscoLuxuryCarEnthusiasts does not garner the attention, as its too long. On the other hand, SFCarLovers gains a pathway. 
Also, you can even experiment with emoji hashtags. You never know it could be fruitful enough. The animated icons are eye-catching and people enjoy that. 
Download Now
See-through delicate embroidered organza blue lining luxury acetate-uppercas.